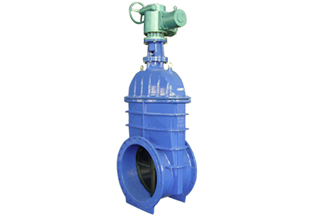 Big Size Resilient Seated Gate Valve
PN10/PN16/125LB/150LB
14"~40" (350~1000mm)
Cast Iron, Ductile Iron
get a quote
Big Size Resilient Seated Gate Valve Product Information
Big size resilient seated gate valve is large sized resilient seated gate valve from 14″ to 40″ (DN350~DN1000mm). Its on-off disc is the flexible wedge gate, whose moving direction is perpendicular with flow. Resilient seated gate valve can be only full open or full close. Water gate valves are widely used in series of industries, especially in water supply projects, public works, water treatment plan, fire fighting, etc. We can design and manufacture the big sized gate valve according to standard of EN1171 and EN1074-2 with sizes of 14"~40" (DN350~DN1000mm).

1. FEATURES
Full bore design
BB, bolted bonnet
NRS, outside screw and yoke
Nonrising stem and non-rising hand wheel
Resilient seated, renewable seat rings
Available with gear operator
3. STANDARDS
Design & manufacturing: EN1171, EN1074-2
Face to face: EN558-1, ASME B16.10, AS2638
Flanged ends: EN1092-2, ASME B16.1/B16.42, AS4087
Inspection & testing: API598 / EN12266
2. TECHNICAL SPECIFICATIONS
PN10/PN16/Class 125LB/Class 150LB
Size: 14"~40" (DN350~DN1000mm)
Materials: cast iron (GG25, ASTM A126 B), ductile iron (GGG50, GJS500, DIN1693, BS EN1563, ASTM A536 65-45-12)
Working pressure: 10bar, 16bar, 200psi
Applicable medium: water, sewage, waste water
Applicable temperature: -10℃~+80℃
4. APPLICATIONS
Water supply plant
High building industry
Mining, steel industry
Metallurgy plant, power plant
Oil, chemical industry
Textile, pharmaceutical industry
Waste water, sludge, sewage treatment industry
Food, pharmaceutical industry
Fire fighting industry
Want to talk about our services?
Let's get in touch.
Or give us a email at