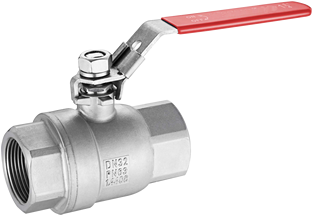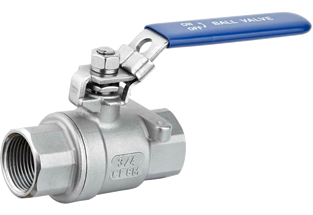 2PC Ball Valve DIN3203 M3
1000PSI / PN16~PN63
1/4″~4″ (8mm~100mm)
WCB,S.S.304,S.S.316
get a quote
2PC Ball Valve DIN3203 M3 Type Descriptions
2pc ball valve DIN3203 M3 is one type of two pieces threaded type ball valve whose face to face length is according to DIN3203-M3 standard. It can be divided into 2pc ball valve stainless steel 304(CF8), 316(CF8M) and 2pc ball valve carbon steel (WCB) according to valve materials with pressure 1000psi. The two piece ball valve lever can be with locking device and butterfly handle. Flowspec Luokai can produce the 2pc ball valve DIN3203-M3 in accordance with ASME B16.34, available with sizes of 1/4″~4″ (DN8~DN100mm). Welcome to contact us for detailed information and best quotes if you have any questions or inquiries.
1. FEATURES
Full port
Fully opening or closing
Blow-out proof stem, reliable sealing
Two pieces structure, easy operation and maintenance
Face to face length: DIN3203-M3
PED97/23/EC (CE0035) approved
Investment casting approved to AD2000-WO certificate
3. STANDARDS
Design & manufacturing: ASME B16.34
Female threaded x female threaded: G, NPT, PT, Rp, Rc (ASME B1.20.1, BS21/2799, DIN2999/259, ISO228-1, JIS B 0203, ISO7/1)
Inspection & testing: API598, EN12266, DIN3230/3
2. TECHNICAL SPECIFICATIONS
1000PSI / PN16~PN63
Size: 1/4″~4″ (DN8~DN100mm)
Materials: steel (WCB), stainless steel 304(CF8), stainless steel 316(CF8M)
Applicable medium: water, oil, gas, corrosive liquids
Applicable temperature: -29℃~+120℃ (higher temperature is available upon request)
4. APPLICATIONS
Water plant
Water supply piping system
HVAC
Chemical industry
Oil & gas
Water treatment plant
Food & beverage
Textile
Want to talk about our services?
Let's get in touch.
Or give us a email at