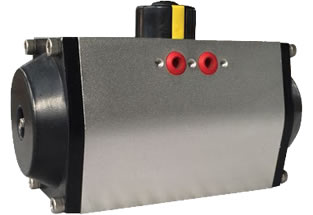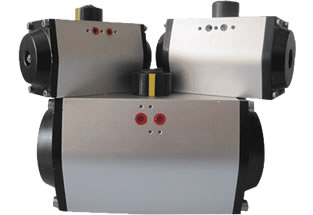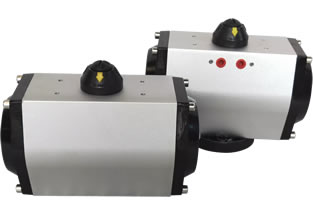 GT Type Pneumatic Actuator
0.4~0.7MPa
IS05211 Connecting
Double Acting, Single Acting
get a quote
GT Type Pneumatic Actuator Product Information
GT type pneumatic actuator is one type of actuator to open, close or adjust the valve, which is driven by compressed air. It is also called as air operator or air equipment. Normally, GT type pneumatic actuator can be divided into single-acting pneumatic actuator and double-acting pneumatic actuator.
GT pneumatic actuator is one autoamtic unit of actuator and regulating mechanism. The actuator includes diaphragm type, piston type, scotch yoke type and rack-and-pinion type according to structure. The piston type actuator stroke is big, so it is mostly applicable to working condition that needs bigger thrust force. The diaphragm type actuator stroke is small, which can drive the valve stem directly. The scotch yoke type actuator is featured with big stroke, small space, and torque curve is more suitable the valve torque curve, but does not look nice, and it is mostly used with valve with big torque. The rack-and-pinion type actuator is featured with simple structure, reliable action and safe & explosion proof, it is widely applicable to working condition that require high safety specifications, such as power plant, chemical industry, oil refining and etc. GT type pneumatic actuator operated valve is driven by compressed air, and it is the drive device for starting and closing angle stroke valves such as ball valve and butterfly valve. Besides, it is the ideal device for realizing long-distance concentration of pipelines or separately controlling automatic industrial pipeline, when is equipped with solenoid valve, positioner (opening position indicator), echo device, filter, pressure reducing valve, various limit switches and hand operating devices.Flowspec Luokai can manufacture the GT type pneumatic actuator according to the standard of NAMUR, ISO5211 and DIN3337 with aluminum alloy body and stainless steel materials. Welcome to contact us for detailed information and best quotes if you have any questions or inquiries.

1. FEATURES
Extruded aluminum ASTM6005 body with both internal and external corrosion protection. Having honed cylinder surface for longer life and low coefficient of friction.
Dual piston rack and pinion design for compact construction, symmetric mounting position, high-cycle fife and fast operation, reverse rotation can be accomplished in the field by simply inverting the pistons.
Multiple bearings and guides on racks and pistons, low friction, high cycle life and prevent shaft blowout.
Modular pre-loaded spring cartridge design, with coated spring for simple versatile range, greater safely and corrosion resistance, longer cycle life.
Fully machined teeth on piston and pinion for accurate low backlash rack and pinion engagement, maximum efficiency. Stainless steel fasteners for long term corrosion resistance.
Full conformance to the latest specifications: IS05211, DIN 3337 and Namur or product inter changeability and easy mounting of solenoids, limit switches and other accessories.
3. STANDARDS
Medium used: clean, dry and non-corrosive compressed air
Working pressure of air source: 0.4~0.7MPa
Temperature of working environment: standard: -20 ~+80 deg C
High temperature type: -20 ~+180 (the temperature can reach 200 in short time)
Rotary angle: 90° ± 5°
Electromagnetic valve power supply: AC220V/DC24V, or according to customers' needs
Model: GT series
2. WORKING PRINCIPLE
When the compressed air enters the pneumatic actuator r through Nozzle A, the air will drive the double piston straightly move towards both ends of the cylinder and the piston rack will drive the gear of the rotary shaft by 90 degrees counterclockwise. In this case, the valve will be opened; the air in both ends of pneumatic actuator is discharged through Nozzle B.
On the contrary, when the compressed air enters both ends of the pneumatic actuator through Nozzle B, the air will drive the double piston to straightly move towards the middle position and the piston rack will drive the gear of the rotary shaft by 90°clockwise. In this case, the valve is closed. At this moment, the air in the middle of the pneumatic actuator is discharged through Nozzle A.
What is aforementioned is the transmission principle. According to customer's needs, the pneumatic actuator can be equipped with transmission principles contrary to the standard type. In other words, the valve will be opened when the rotary s haft rotates clockwise, while the valve is closed when it rotates counterclockwise.
Single acting (spring return type) pneumatic actuation is implemented along the Nozzle A which is the air inlet, while Nozzle B is the air outlet (a muffler shall l be installed in the Nozzle B).
When Nozzle A inlets air, the valve will be opened, while the valve will be closed by the spring force when the air source is cut off.
Want to talk about our services?
Let's get in touch.
Or give us a email at