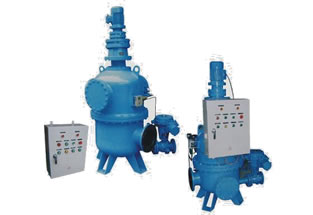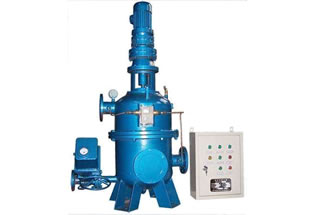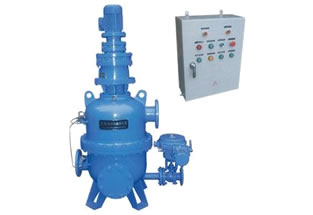 Automatic Backwash Water Strainer
0.6Mpa~2.5Mpa
21m3/h~3890m3/h
Carbon Steel, Stainless Steel
get a quote
Automatic Backwash Water Strainer Descriptions
Automatic backwash water strainer is one type of fully-automatic water strainer, which is mainly divided into two types: ZLSG-G (GII) and ZLSG-B. The ZLSG-G (GII) Water Strainer has a structure with inlet up and outlet down, while the ZLSG-B Water Strainers is outlet up and inlet down, which is improved from the basic ZLSG. The reason for this design is to meet the requirement of power station's different pipe arrangement.
ZLSG-G (GII), the ZLSG-B (ZLSG) series full-automatic backwash water strainer are composed of water strainer main body (composed of shell, cover-end-piece flange, rotation mechanism, filtration mechanism, filth discharge mechanism), electric cyclonical pin wheel reducer, electric filth discharge ball valve, water chiller controller, pressure gauge and PLC electronic control cabinet.
Although ZLSG-G(GII), ZLSG-B(ZLSG) full-automatic water strainer are quite different in mechanical structure and adaptable performance, they are both featured with the function of automatic filtration, automatic counter-flushing filth discharge and so on, and will not influence the normal amount of water pipe's water supply. PLC control technology has been adopted in electronic control, which can make time filth discharge, differential pressure filth discharge, manual filth discharge and reducer's failure alarm, differential pressure overload alarm, over force moment failure alarm function. Running without people taking charge can also be achieved. In addition,
ZLSG-G (GII) and ZLSG-B are both set opening manhole on upper tank, so that the repair will be quite convenient without disassembling the whole. Flowspec Luokai manufactures the automatic backwash water strainer with nominal pressure of 0.6~2.5MPa and flow capacity of 21m3/h~3890m3/h.
Contact us today. Get the better prices. 30 years of experience. Great after-sales service.

1. FEATURES
Main parts of all kinds of pumps, valves in the pipeline. The water strainer equipment is developed on basis of foreign technology, such as America, Israel and Italy
The water strainer has overcome almost all the shortcomings of present domestic and foreign technology
Vertical installation, water inlet is up while water outlet is down
No pollutant blockage
Adopting small drum filtering technique
Adopting combined coarse screen. Water comes into the vessel from upper part, and comes out from lower part. Service manhole is provided. Fine cartridge is of special construction. Stationary discharge support is connected with shaft vertically
3. APPLICATIONS
Hydropower plant
Thermal power plant
Steel work
Chemical industry
2. TECHNICAL SPECIFICATIONS
Nominal pressure: 0.6MPa, 1.0MPa, 1.6MPa, 2.5MPa
Working pressure: 0.25-1.0MPa, 0.25-1.6MPa, 0.25-2.5MPa
Pressure loss: 0.01-0.03MPa
Water loss during discharge:<5%
Power supply: AC 380V, 50Hz (or other voltage grade)
Filtration accuracy: 0.05~6mm
Differential pressure set value scope: 0.02-0.1MPa(adjustable)
Automatic wash time: 5 min or according to working condition
Applicable medium: water, waste water, sewage
Applicable temperature: ≤+80℃