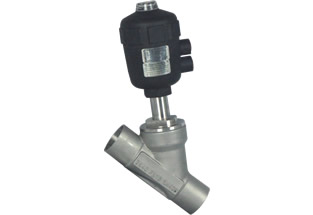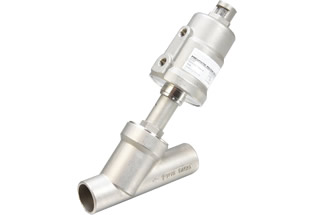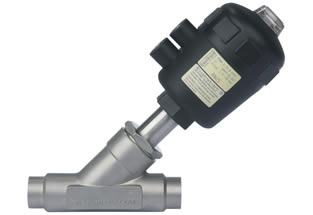 Pneumatic Angle Seat Valve Welded Ends
PN10-PN25
φ19~ φ89mm
S.S.304, S.S.316
get a quote
Pneumatic Angle Seat Valve Welded Ends Product Information
Pneumatic angle seat valve welded ends is used widely to the conditions that need frequent starts within short time, because it features with sensitive response and precise action. When it's used with solenoid valve together, air operated angle seat valve can control accurately the air, gas or fluids flow, and can achieve in accurate temperature control and liquids adding. For example, pneumatic angle seat valve is mounted onto the wet heat sterilization cabinet to control the temperature accurately by controlling the steam capacity. It is normally applicable to beer & drinks filling machinery and gas industry.
The cylinder of pneumatic angle seat valve can be divided into double acting and spring return type. And the ends connection type of pneumatic angle seat valve includes threaded, flanged, welded and clamped.
1. FEATURES
Sensitive response
Precise action
3. STANDARDS
Design & manufacturing: manufacturer's standard
Face to face: manufacturer's standard
Welded ends: pipe welding
Quality assurance: ISO 9001, CE
2. TECHNICAL SPECIFICATIONS
Nominal pressure: PN1.0 / PN1.6 / PN2.5MPa
Working pressure: 0.3~0.8MPa
Size: φ19~ φ89mm
Materials: stainless steel 304, stainless steel 316
Working temperature: -30 ~ +180℃ (higher temperature is available)
Ambient temperature: -10 ~ +60℃
Control air pressure: 4 ~ 10bar
Normally open, normally closed, double acting
Applicable medium: water, alcohol, oil, fuel, steam, dairy product, organic solvent, acid & alkali solvent
Applicable temperature: -30 ℃ ~ + 180 ℃
4. APPLICATIONS
Food
Pharmacy
Water treatment industry
Beer & drinks
Printing & dyeing
Nitrogen & oxygen making
Petroleum & petrochemical industry
Want to talk about our services?
Let's get in touch.
Or give us a email at