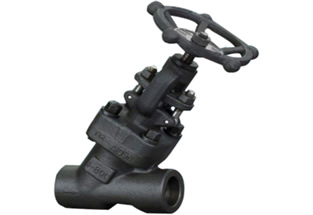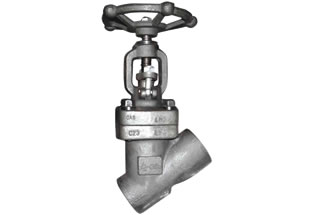 Forged Steel Y Globe Valve
Class150-4500LB
1/4″-2″(6~50mm)
A105, F304, F316, A350
get a quote
Forged Steel Y Globe Valve Descriptions
Forged steel Y globe valve is one important type of valve in the oil & gas field and power plant, because they can be applicable to water, oil and gas with high temperature and high pressure. Forged steel globe valve can be devided into socked welded globe valve, butt-welded globe valve, threaded globe valve, flanged globe valve, Y type globe valve, with materials of steel ASTM A105N, alloy steel A182 F11, A182 F22, stainless steel A182 F304/L, A182 F316/L, A182 F5, duplex s.s. A182 F51, low temperature steel A350 LF2, with ends connection of socket welded, butt-welded, threaded, welded flanged and intergral flanged. Flowspec Luolai can produce the forged steel Y globe valve especially with extended body, extended bonnet, locking device and low temperature. Welcome to contact us for detailed information and best quotes if you have any questions or inquiries.
1. FEATURES
Full port or reduced port
Bolted bonnet, OS&Y
Pressure seal bonnet or welded bonnet available
Fully guided solid disc
Spiral wound gasket or ring joint gasket
Plug style discs are standard; others are available upon request
High quality packing material
Bi-directional
3. STANDARDS
Design & manufacturing: API602, ASME B16.34 / ISO15761
Face to face: manufacturer's, ASME B16.10
Socket welded: ASME B16.11
Threaded ends: NPT ASME 1.20.1
Butt-welded: ASME B16.25
Flanged ends: ANSI B16.5 RF
Inspection & Testing: API598
Fugitive emission class: B
FE testing: MESC 77/312, ISO15848-2
TAT: MESC 77/300
2. TECHNICAL SPECIFICATIONS
150LB~4500LB
Size: 1/4″~2″ (DN6~DN50mm)
Materials: forged steel (A105), alloy steel (A182 F11, F22, F5), stainless steel(A182 F304/L, F316/L), duplex s.s.(A182 F51), low temperature steel(A350 LF2)
Applicable medium: water, oil, gas, steam
Applicable temperature: -29℃~+425℃(higher temperature and lower temperature are available)
Sour service conditions: NACE MR-01-75
4. APPLICATIONS
Petroleum industry
Oil & gas
Power plant
Chemical industry
Textile
Printing & dyeing
Steel plant
Metallurgical plant
Want to talk about our services?
Let's get in touch.
Or give us a email at