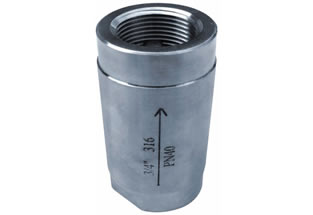 1PC Spring Vertical Check Valve
800WOG PN40
1/4″-3″(8~80mm)
WCB, SS304, SS316
get a quote
1PC Spring Vertical Check Valve Threaded Ends
1PC Spring Vertical Check Valve is a type of vertical check valve that is spring loaded to open and close. Vertical check valve is also called one-way valve or non-return valve, which is used to prevent of mediums back flow in the pipeline. The disc of the check valve is spring loaded, whose action depends on the mediums itself flow pressure, so the check valve is belonging to automatic valve types. Because the spring check valve is only allowed the mediums to flow in one direction, we should note the arrowhead on the check valve when mount it in horizontal position. 1pc spring vertical check valves are widely used in series of industries, especially in oil & gas filed, power plant, etc. Flowspec Luokai can manufacture the 1pc spring vertical check valve in accordance with ASME b16.34 with threaded ends of NPT, BSP, ISO and DIN standard, etc.. Welcome to contact us for detailed information and best quotes if you have any questions or inquiries.
1. FEATURES
One piece body structure
Spring loaded disc
Horizontal or vertical service
Threaded ends
3. STANDARDS
Design & manufacturing: ASME b16.34
Face to face: manufacturer's
Threaded ends: G, NPT, PT, Rp, Rc (ASME B1.20.1, BS21/2799, DIN2999/259, ISO228-1, JIS B 0203, ISO7/1)
Inspection & testing: API598
2. TECHNICAL SPECIFICATIONS
Pressure rating: 800PSI (PN40)
Size: 1/4″ ~ 3″ (DN8~80mm)
Materials: steel A216 WCB, stainless steel 304 (A351 CF8), stainless steel 316 (A351 CF8M)
Applicable medium: water, seawater, oil, gas, corrosive liquids
Applicable temperature: -29℃~+300℃ (higher temperature is available upon request)
4. APPLICATIONS
Petroleum
Chemical industry
Pharmacy
Chemical fertilizer
Power plant
Textile
Printing & dyeing
Oil & gas
Want to talk about our services?
Let's get in touch.
Or give us a email at