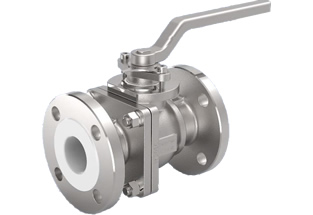 Flanged Ball Valve PTFE Lined
PN16/150LB/JIS10K
1/2"~12" (15~300mm)
WCB, S.S.304, S.S.316
get a quote
Flanged Ball Valve PTFE Lined Product Information
Flanged ball valve PTFE lined is one type of two pieces floating ball valve with PTFE lining, which is applicable to corrosive conditions normally. It can be divided into 2pc flanged ball valve stainless steel 304(CF8), 316(CF8M) and 2pc flanged ball valve carbon steel (WCB) according to valve materials. Our PTFE lined ball valve is with fully lined body, bonnet, ball and even stem, so it can work freely in the strong corrosive mediums with no leakage. And even more, our floating ball valve PTFE lined is with adjustable gland, it can be mounted with pneumatic actuator or electric actuator directly, no needing mouting another bracket, very convinient. Flowspec Luokai can manufacture and supply the flanged ball valve PTFE lined according to the standard of ASME B16.34, GB/T 12237, DIN 1026 and BS5351 with sizes of 1/2"~12" (DN15~DN300mm). Just feel free to contact us now to get best prices. 30 years of experience. High quality. Big stock. Fast delivery.

1. FEATURES
Full port
Fully opening or closing
PTFE lined stem, anti-corrosion
Two pieces structure, easy operation and maintenance
Integrated stem and ball, better sealing and low torque
Quality PTFE lined body and bonnet casting, nice apprearance
3. STANDARDS
Design & manufacturing: ASME B16.34, GB/T 12237, DIN 1026, JIS
Face to face: GB/T 12221, ANSI B16.10
Flanged ends: HG/T 20592-2009, ANSI B16.5 RF, DIN PN16/PN25/PN40, JIS10K/JIS20K
Inspection & testing: GB/T 13927, API598
2. TECHNICAL SPECIFICATIONS
PN16~PN40, 150LB~300LB, JIS10K~JIS20K
Size: 1/2"~12" (DN15~DN300mm)
Materials: carbon steel A216 WCB, stainless steel 304(CF8), stainless steel 316(CF8M)
Applicable medium: water, oil, gas, food, strong corrosive liquids
Applicable temperature: -29℃~+150℃ (higher temperature is available upon request)
4. APPLICATIONS
Sea water desalination
Coal, slurry industry
Paper making industry
Power plant
Oil, chemical industry
Fertilizer, pharmaceutical industry
Waste water, sludge, sewage treatment industry
Food industry
Want to talk about our services?
Let's get in touch.
Or give us a email at