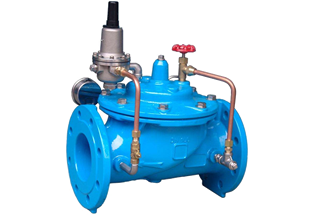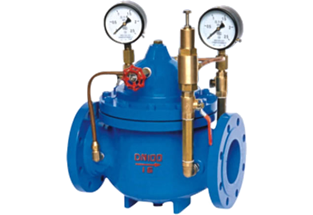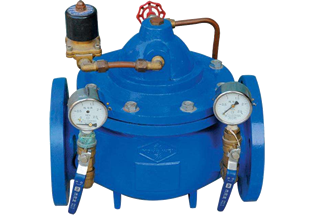 200X Pressure Reducing Valve
PN10/PN16/PN25
3/4″~ 24″ (20~600mm)
Iron, Steel, S.S.
get a quote
200X Pressure Reducing Valve Product Descriptions
200X pressure reducing valve is one type of automatic control valve to regulate and control pipe pressure through the fluids self-energy. 200X pressure reducing valve is applicable to living water supply, firefighting water supply and industrial water supply system. It can adjust the main valve outlet pressure without change because of affecting the inlet pressure or inlet flow change, but will keep on the set one safely and reliably. The valve can also adjust the set pressure to achieve the purpose of reducing the pressure. 200X diaphragm type pressure reducing valve has accurate pressure reducing, stable, safe and reliable performance, convenient installation & adjustment and long service life. Flowspec Luokai can manufacture the 200X pressure reducing valve applicable to be mounted on the pipeline with sizes ≤ DN600.
1. FEATURES
Convenient installation and adjustment
Stable, safe and reliable performance
Long service life
3. STANDARDS
Design & manufacturing: Q / FSF-2014
Face to face: Q / FSL-2014
Flanged ends: GB/T 17241.6, GB/T 9113, ASME B16.1 / B16.5, EN 1092, AS4087, DIN2532-2534, DIN2542-2544
Inspection & testing: GB / T 13927, API 598, EN12266
Quality assurance: ISO 90001
Applicable medium: water, sewage, sea water
Applicable temperature: 0 ℃ ~ + 80 ℃ (higher temperature is available upon request)
2. TECHNICAL SPECIFICATIONS
Nominal pressure: PN1.0 / PN1.6MPa / PN2.5MPa, ANSI 125 / 150LB,
Size: 3/4″~ 24″ (DN20 ~ DN600mm)
Materials: cast iron (GG25, ASTM A126 B), ductile iron (GGG50, GJS500, DIN1693, BS EN1563, ASTM A536 65-45-12), carbon steel (WCB), stainless steel 304 (CF8), stainless steel 316 (CF8M), brass, bronze (C83600, C95800)
4. APPLICATIONS
Water projects
High buildings
Water treatment industry
Power plant
Chemical industry
Want to talk about our services?
Let's get in touch.
Or give us a email at